We wish to advise that Judds Engineering Pty Ltd,will be closed 2.00pm Friday 24th December 2021 and will re-open 8.00am Tuesday the 4th January 2022.The team at Judds Engineering wish to take this opportunity to thank you for your business in 2021 and look forward to continuing to service your needs in the future. Have a safe and lovely Christmas. Regards, Brendan Judd and Staff Judds Engineering Pty LtdStocking the Ferris Range of Zero Turn Suspension RIde Ons, Billy Goat Vacs and now Greenpower LIthium Outdoor Equipment. For any queries please call us on 0269251642. We can arrange Mower pick up and delivery should that be required.
Your local expert for all your agricultural and domestic power equipment needs
Judds Engineering estabilished in 1957, specialises in sales, service and repair of outdoor power equipment for both the residential,agricultural and commercial user. Over the years we have maintained a longstanding tradition of quality service, reliability and sound business ethic. Though a small company, we are long term holders of many quality dealerships with a large range of spares, efficient large workshop, and product to reduce downtime. We supply stationary engines both petrol and diesel, water pumps, pressure washers, hydraulic hoses/components and brass fittings, mowers, chainsaws, brushcutters and blowers to name but a few. Our fully equipped workshop caters for the professional contractor and the residential user. Engineering services include guillotining, brake pressing and welding.
We are dealers for Honda, Briggs and Stratton, Kohler, Yanmar, Hatz, Echo, Shindaiwa, Atom, Ferris, Victa, Hansa, Gentech, Bar Pressure Washers, Southcott/Gates Hydraulic Hose and Fittings, Industrial Fitting Sales(brass), Christie Engineering(post drivers), Onga Pumps, Finsbury Pump Systems,Gaam, Lehane Centrifugal Clutches and many more....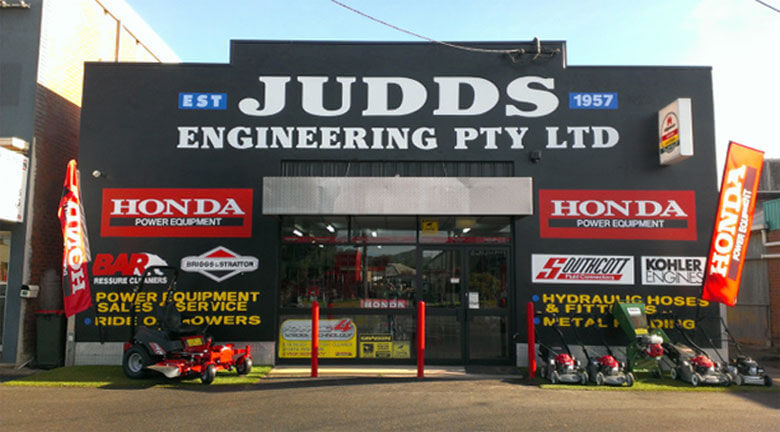 Featured Products